Concession Tent Models
Custom Food and Vendor Tents for Outdoor Events
NYC Sub Shop - 10x15 Concession Tent
The New York City Sub Shop decided to employ 10x15 pop up canopy tent model to serve as the base of their mobile concession tent. Half-walls were used on three sides and a custom back wall was printed with an integrated door on the left side. Their location sometimes experiences heavy wind gusts so our 66lb footplates were an ideal solution, which are certified for wind speeds up to 35mph.
Request a Quote
Food Lion - 10x10 Beach Snackin' Tent
We helped Food Lion create this branded concession tent experience for their experiential event during spring break. Since heavy winds are common along the ocean shoreline, they chose our heavy duty pop-up tent frame which delivers an octagonal leg design for greater stability whether on a flat or uneven surface such as sand.
Request a Quote
Rotel - 10x15 Stadium Sampling Tent
For this outdoor sampling experience, Rotel used two of our 10X15 heavy-duty pop up canopy models with full digital printing. These models include a patented roof fitting for peak flags or a peak banner, such as the one you see in this examples which reads 'Free Samples.'
Request a Quote
Local Difference - 10x10 Farmers Market Tent
Taste the Local Difference required a simple, medium-duty event tent to help promote a locally-sourced farmers market brunch. Our mightyTENT model was a perfect fit as it still offers a strong frame that can withstand the outdoor elements and frequent use, yet it's a bit more budget-friendly when compared to our heavy-duty pop up tent frame option.
Request a Quote
The Local Meatball - 10x10 Vendor Tent
The Local Meatball needed a pop up canopy tent model which could withstand the rigors of frequent use and the outdoor elements. Our heavy-duty frame is the answer if you'll be using your event tent 5+ times per year. In addition to a 10X10 pop up model, we printed a custom roof, back wall and table cover to give their growing mobile catering business a professional appearance.
Request a Quote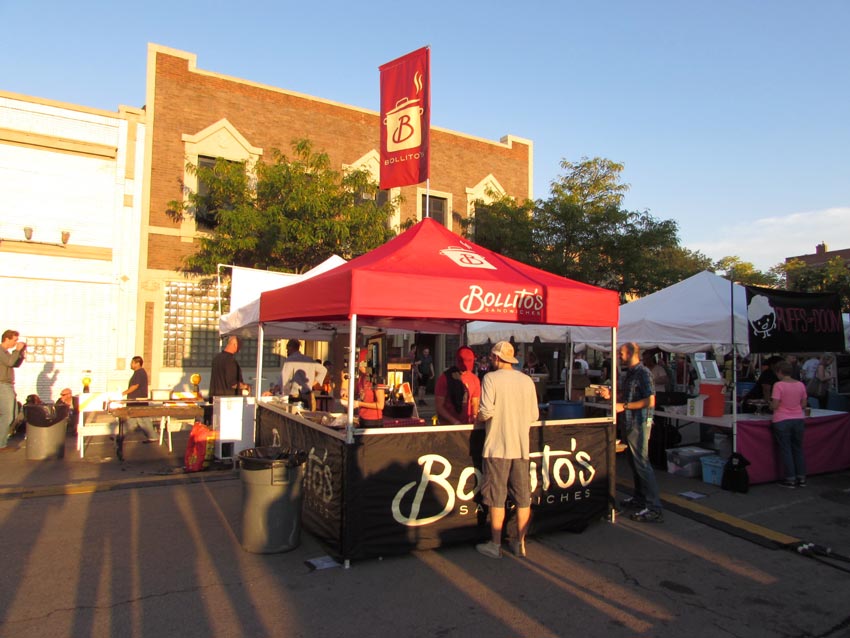 Bollitos Sandwiches - 10x10 Mobile Vendor Tent
This mobile sandwich shop for Bollitos shows of our optional peak flags which are compatible with our heavy-duty canopy tent models. Half-height walls around the perimeter are a popular choice for any mobile food vendor. We also carry wood countertop extensions that can be added to one or all four sides of a tent.
Request a Quote
Wheat Thins Popped - 10x10 Sampling Tents
Wheat Thins invited the world to join them for the ultimate snack break in Times Square to help them launch the new Wheat Thins Popped brand. Their vision was to have a number of event structures which looked like the Wheat Thins Popped bag. That's exactly what we delivered. More than 50,000 samples were distributed via these tents.
Request a Quote
Cideroad - 10x10 Sampling Tent
America's original thirst quencher, CideRoad, required a branded 10x10 canopy tent which could stand up to winters' worst. Our heavy-duty frame is designed for just that. The anodized aluminum (they make satellites out of this stuff) frame was engineered with 43mm octagonal leg profile for ultimate stability. The included spiral stake kit comes with a hammer and straps.
Request a Quote
Pure Raw Juice - 10x10 Branded Tent
Pure Raw Juice took it to the streets in the Baltimore area to grow awareness around their delicious juice blends. Their mobile display consisted of our 10X10 medium duty mightyTENT model with a printed canopy, back wall and table cover.
Request a Quote