A Manufacturing Partner for Experiential Agencies That Need Custom Fabrication and Event Solutions.
TentCraft is an intersection of fabric, metal, and print and can create anything you can dream up. Tap into our toolbox of American-made manufacturing capabilities to bring creative sketches and mock-ups into reality.
We're interested in becoming an extension of your team – committed to your client and the impressions you'll make. Work with TentCraft, and you'll have an army of passionate partners advocating for and amplifying your activation or event.
DOWNLOAD: Inspiration Guide for Experiential Events & Programs - PDF
See examples of experiential renderings, featured projects and more custom fabrication ideas to help inspire your activations, sponsorships and programs.
Plug and Play Manufacturing
How do you maximize our value as a trusted partner? Simple—bring us your napkin-sketches, custom printing projects, and off-the-wall activation ideas. Since we're also the manufacturer, we can bring those ideas to life and faster than anyone else.
We're optimized and positioned to fabricate branded environments. See some of our most recent custom projects or jump on live chat to be directly connected to the team.
A few of our custom fabrication specialties:
Trade-show Displays and Booths (Outdoor and Indoor)
Engineered Tent Structures
Retail and Restaurant Pop-Up Shops
Activation Displays and Events
Automobile Ride and Drive
Engineered Metal Structures
Custom Projects Gallery&nbsp
Hardware and Custom Print Solutions
Our team understands what it takes working with brand standards and multi-level creative teams to prepare experiential events and custom projects that will exceed your clients' expectations. From pencil sketch ideas to full story-board presentations, we've successfully executed everything from one-off custom products to fully-immersive outdoor events for the past 10 years.
We thrive for the opportunity to work with an agency team and can easily put our manufacturing horsepower to work in areas of speed, quality and customization. See some of our most recent agency events or jump on live chat to be directly connected to the team.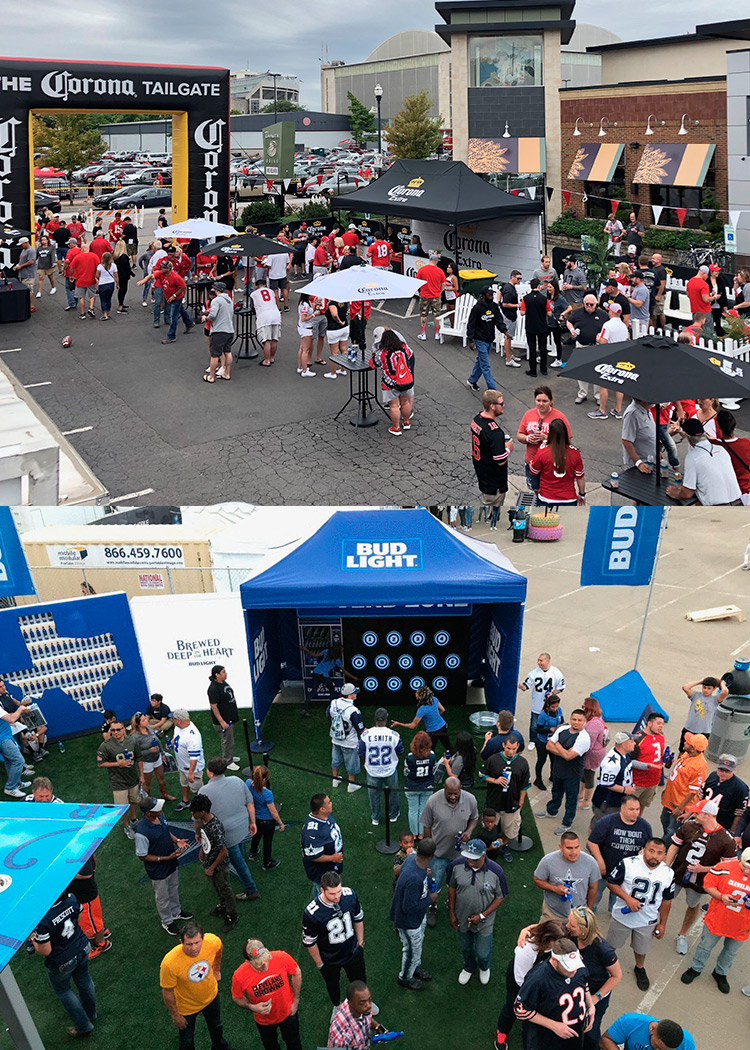 Event Logistics
Whether it's a weekend activation or year-long mobile tour—we can help simplify your event. We can store and maintain brand assets in between events and create online portals for field teams to manage key dates and logistics. For brands with numerous locations looking to unify branding and outdoor events, we even create online e-commerce portals with corporate-approved assets. Tell us about your pain points and we'll help solve them.
TentCraft Reviews
Whether you're an agency who needs help with custom experiential fabrication or just need a pop up tent with a logo—the reputation of who you choose to work with is paramount. Do they have experience and examples of projects within your vertical? What about examples of situations where something went wrong? How did they make it right? A big part of any brand's reputation is shaped by customer feedback and reviews. Here's what our customers have to say about their experience working with TentCraft.
Inspiration Gallery
Get inspired by these custom projects.
&times
Here's How to Get Pricing on Your Project