Custom Signage & Banners
Event Signage & Banners
It's all in the details. Sponsorship signage, custom umbrellas, and directional hardware are among some of our favorite ways to amplify your brand presence and help create an immaculate event experience.
Inflatable Arch Gate
Most frequently used to create distinct entry/exit locations for festivals, events, and race competitions alike, the three sizes of Inflatable Arch Gates allow your brand to be seen from START to FINISH.
Sizes:
3M - 9'10" (w) x 9'5" (h)
5M - 16'5" (w) x 10'11" (h)
7M - 22'12" (w) x 16'5" (h)
Each Arch Gate includes a wired pump, transport bag, and stake kit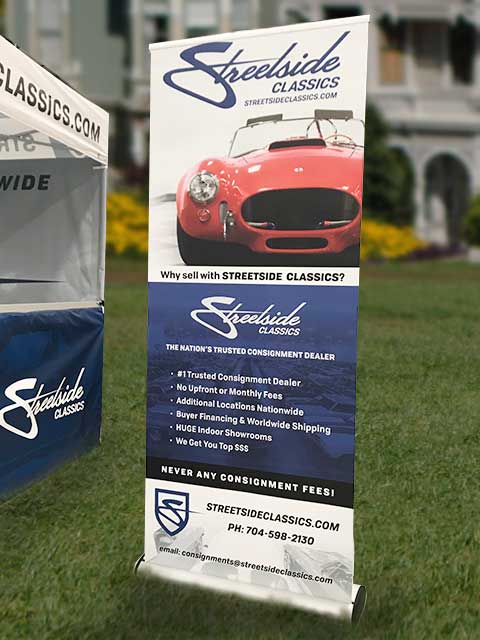 Retractable Banner Stands
Retractable banners are a great option when you're looking to beef up your marketing arsenal. The portable signage hardware functions well on its own or compliments your pop-up tent arrangement.
Printed Banner Dimensions: 31.5" X 83.25"
Includes Banner Stand, Bungee Tension Pole, and Padded Carry Case
Total Weight: 9lbs
Spring mechanism allows for the display to flex in the wind, while the wide base keeps it sturdy
Plastic A-Frame Signs
Our plastic a-frame signs are Bobby Knight approved. What exactly does that mean? It means the signs are made of a tough, lightweight plastic so they're designed to withstand an unexpected tantrum should someone decide to pick it up and hurl it across the court.
Offered in either white or black frame
Frame fills with sand for additional weight
Rigid display attaches via Velcro for a clean finish
Display one or two graphics
Finished graphic size: 24"x 36"
Aluminum A-Frame Signs
The entire frame collapses into an easy-to-carry transport case, making it the ideal portable branding display. The A-frame graphic attaches with 4 grommets at both the top and bottom.
Graphics printed on mesh material
Display one or two graphics
Includes carrying case, attachment bungees, and four ground stakes
Finished graphic size: 94" x 34"
Snap-In A-Frame Signs
A professional display with changeable graphics. Simply snap open all sides of the sign, insert your graphic, and snap each side shut.
Offered in solid metal frame
Frame weight: 12lbs
Display one or two graphics
Finished graphic size: 23.4" x 33.4"
Fence Banner & Scrim
Whether you need to wrap an existing fence or want to create your own, we provide a number of breathable fabrics that can withstand the rugged outdoors.
Event Barricade Covers
We'll print, cut, and fabricate barricade covers to any size and quantity you desire. If you need the barricade hardware as well, we've got you covered.
Custom Event Umbrellas
These custom printed umbrellas are the perfect way to add some luxury and comfort to any event space. Equipped with an adjustable crank, sturdy base and available in 7.5' and 9' sizes.
Here's How to Get Pricing on Your Project