A light-weight inflatable tent with extraordinary ambience.
GYBE
Inflatable Event Tent
A Branded Experience that Transports in a Backpack.
The GYBE inflatable tent can be set-up by one person in less than five minutes and unlike cheaper inflatable tent models, requires no continuous fan to keep upright. Because these inflatable tents have no rigid frame, the GYBE is also low-weight, needs minimal storage and travels to any event painlessly.
Easy Transport & Storage

5 Minute Set-Up

Available Sizes — 10x10, 13x13, 17x17, 20x20
Start Your GYBE Quote
The GYBE inflatable tent can be set-up by one person in less than five minutes and unlike cheaper inflatable tent models, requires no continuous fan to keep upright. Because these inflatable tents have no rigid frame, the GYBE is also low-weight, needs minimal storage and travels to any event painlessly.
Easy Transport & Storage

5 Minute Set-Up

Available Sizes — 10x10, 13x13, 17x17, 20x20
<
Start Your GYBE Quote
&times
Examples of inflatable tents
Over 10 years of experience creating incredible outdoor events for brands like these. See the 9 Best Inflatable Tent Designs for additional examples on our blog.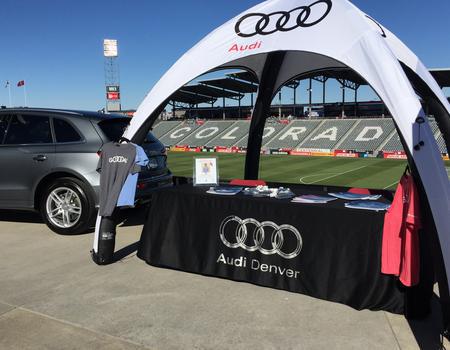 &times
Why Choose GYBE?
Modern Aesthetics
Eye-catching and different, the GYBE turns heads.
Maximum Mobility
It's so compact that it transports inside of an included backpack.
Extreme Durability
Performance designed with proven materials from the kiteboarding industry.
Customizable
Printing, walls and connecting elements allow this inflatable tent to deliver on both flair and function.
Included with Every GYBE
Every GYBE ships with a transportation backpack, double-stroke 12V battery pump, sand donuts, 4-Guy wires for fastening and a "just-in-case" repair kit.
A few accessories that work with your GYBE
GYBE Fusion Panel
GYBE's of various sizes can be connected to cover a larger event footprint and create a head-turning scenery of inflatable tents.
GYBE Side Panel
Enclose your GYBE inflatable tent space and use the side panel space to customize with your branding. All side panels can include an additional zipper option for more versatility.
GYBE Sunshade
Create a unique entrance and shady oasis for event participants.
Get to Know Our Process
1. Start the conversation with a quote request.
We work where it's easiest for you. After answering just a few quick questions, we can make sure your request is directed to the best person to help bring your project to life.
2. We'll help guide you to the perfect solution.
Our team consists of skilled event experts, artists and customer service savants who live and breathe outdoor custom solutions 24-7. We'll hear your challenges, learn about your specific use case and guide you into a tailored solution.
3. We'll show you how awesome it'll look.
Once we figure out your product fit, our team of professional artists will craft a document to help you visually see what the finished product will look like at no cost. If you don't like the first version, we'll keep working with you until we hit a homerun.
4. We'll build it and ship it.
All within 3-days your custom product is printed, cut, hand-sewn, assembled, quality checked and shipped out our door and on its way to you.
Here's How to Get Pricing on Your GYBE
GYBE FAQs
Is the GYBE the right fit for you?

The GYBE is a perfect fit if you're looking to check any of the three boxes:



- Super unique aesthetic that stands out in a sea of white pop-up tents.


- Lightweight and convenient for traveling. Usually checkable on a flight (check with your airline to be sure!)


- Available in large sizes that still pack down into a duffel bag that you can toss in the backseat of an SUV or minivan (and in many cases, a sedan).


If none of those things are on your priority list, it actually might not be a great fit for you and it wouldn't make sense to invest in a GYBE. But for folks who are nodding their heads and dreaming about the day when they don't need four people on hand to set up a tent with a 20x20 footprint, this is the highest quality kit on the market.
How much does it cost?

The final cost of your tent is going to depend on a few factors, including size, scope of print, additional accessories, shipping method and if your state charges sales tax on items purchased from remote sellers. For a more detailed look at the numbers and how you can customize your project to hit a specific budget, we recommend you request a quote. For a general idea, the GYBE base costs range from $2,700 to $5,499.
What sizes are available?

The GYBE inflatable is available in 10x10, 13x13, 17x17, and 20x20 options.
How long does it take to inflate?

From 2-15 minutes, depending on the size. The smaller 10x10s are fully inflated really quickly, but the larger 20x20 is going to take that full 15 minutes.
Does it need a constant air source?

This part is cool. It does not require any kind of constant air source or blower to stay inflated. Think of it like a beach ball. You fill it up with air, close the valves and enjoy until you're ready to take it down. Then just release the valves and call it a day.
How quickly can it be shipped?

Okay, hang with us here because there's a couple of routes you can take that will directly impact your delivery timeline. The first thing to know is that the GYBE is one of only a few tents that we do not manufacture in house. We are the USA distributor and while we stock several unprinted kits at all times, we can also fulfill fully custom printed setups.



Option 1: An In-Stock Tent with Spot Printing We stock a few of each size - 10x10, 13x13, 17x17, and 20x20 - in a few basic colors like black and white, here in Michigan. While we cannot custom print the entire kit to color match or be a gradient or texture, we can print and apply decals so your tent is branded with your logo and information. This option is ready to ship within 3 business days.



Option 2: A Fully Custom Printed Tent, Made-to Order If you're looking for a fully printed GYBE, maybe to color match to your brand's Pantone guidelines, or to achieve an edge-to-edge pattern over the canopy, then you'll want a made-to-order GYBE. The production timeline is a bit longer at 14-18 business days before its ready to ship.
What accessories are included?

The inflatable GYBE comes standard with a transport backpack (because it rolls up tiny enough to fit in a backpack, can you believe?!), a pump, donut-shaped sandbag anchoring kit, and a just-in-case repair kit.
Why should I invest in the GYBE over cheaper inflatable options?

First, we want to acknowledge that anything inflatable sounds scary. We've probably all had enough bad experiences with an air mattress or those huge inflatable beach ducks/flamingos/unicorns that had a *moment* a few summers ago. Cheap plastic is really easy to damage, period.

So we don't do this cheaply. We've honed in on a supplier that is as committed to quality as we are. The GYBE is wrapped with a Dacron shell that protects the inflatable bladders. We know the material used to build a GYBE is proven in the kiteboarding industry and it not only does a rockin' job protecting the inflatable, but is also fire-rated, water-resistant, and UV stabilized.

Here's the thing: we don't want to deal with an exploded or leaking tent any more than you do. It's pretty much the worst way to spend a day for all parties. There are cheaper models on the market, but like any industry, there's usually a reason something costs less. Corners were cut somewhere.

We recently had a customer that believed what we were saying about quality, but also wanted to give the cheaper options a chance. They bought one GYBE and an inflatable from somewhere else. The plan was to use them together and see if there was any noticeable difference.

We were down with it. Honestly, we were interested.

Well, in an anti-climatic twist, at the first setup, the GYBE operated as expected, while the alternative exploded. We can't make this stuff up, guys.


How long is the warranty?

The GYBE is covered by a 1-year manufacturer's warranty, which covers the repair or replacement of defects caused by manufacturer error.

View the GYBE warranty
---
American Craftsmanship built into each and every project.
We're masters of our craft, driven by grit, gumption, and our unwavering commitment to elevating your brand. From custom pop-up tents to event accessories to experiential footprints, we do it all and we do it well. We're interested in becoming an extension of your team, committed to your brand and the impressions you'll make.
We're different. We're experienced. We're TentCraft. Let's make something together.